NATURE DOCUMENTARY
DISCOVER ALGONQUIN PARK – PRE-PRODUCTION – 2021

COMEDY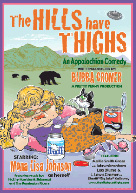 THE HILLS HAVE THIGHS
The Hills Have Thighs is a hysterical Appalachian Comedy that centers around the sudden disappearance of a local hillbilly icon named Daniel Boone Owen, who vanishes one night after a corn liquor-induced stupor. The hilarious journey throughout Appalachia features colorful, larger than life characters struggling to get to the bottom of this mystery. The theories vary from his driving off of Issaqueena Falls, being murdered by local tourists, getting abducted by aliens, and even suffering a gruesome death by black bear. One person in particular, Pooter Brown– a self-proclaimed UFO-abductee of 16 prior Christmas Eves–promotes the most popular theory: Dan has vanished into a Wormhole.
read more…
ADVENTURE
THE REBIRTH OF ROSTAM
Winner of Best 3D Animation Movie * Gold Lioness Award, World of Academy Art Literature and Media The Rebirth of Rostam An epical masterpiece remodeled. A story of love, betrayal, bravery and sacrifice comes to life for the first time in this 3D animation motion picture. Using the latest technologies of computer animation and cinematography , motion capture for natural and stylized human and horse movements, over 140 artists, technicians, engineers and computer animators have been involved in making of this film for more than 3 years, amounting to a total of over 520.000 hours of exciting work, to bring this 50 minutes of animated feature film to your home.
read more…
GEOGRAPHIC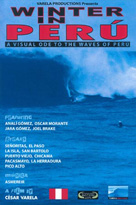 WINTER IN PERU
– A VISUAL ODE TO THE WAVES OF PERU – INTERNATIONAL FILM FESTIVAL SOUTH AFRICA
"WINTER IN PERU – A Visual Ode to the Waves of PERU" A 50 minute surf documentary that explores some of the best surf breaks of Perú. This surfing experience took place during a 30 day trip to Perú, in the winter months of June and July of 2006. Along this film each surf break is presented with maps and information such as break type, wave heights, best swell-direction as well as actual surfing footage. This presentation showcases local talent, such as Analí Gómez, José "Jara" Gómez and Oscar Morante on their local breaks, as well as the Ocean Riders team, towing and taming the huge waves of Pico Alto. Music for this film provided by a band from Perú called Asmereir. Surf breaks: Señoritas, El Paso, La Isla, San Bartolo, Puerto Viejo, Chicama, Pacasmayo, La Herradura and Pico Alto.
read more…